While Google, Bing and Yahoo all receive a huge amount of traffic each month, if you want to build a strong search engine presence for your business, there's nothing wrong with primarily focusing on Google. The reason is if you follow the best practices for building a strong Google presence, your rankings in the other search engines will follow. So, what are the best practices for building a strong Google presence during 2014 and beyond? That's exactly what we're going to cover right now:
Google+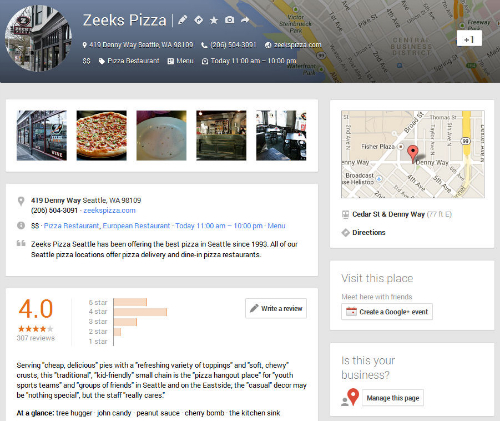 When Google first debuted Plus, plenty of people thought that the network wouldn't last. Since Google does have a track record of shutting down even seemingly popular products like Reader, it's easy to understand why Plus had its skeptics. However, since rolling out this network in June of 2011, Google has continued to integrate it even more deeply into their core services. As a result, with more active users than Twitter, it's now the second-largest social network in the world. Because it's safe to say that Google+ isn't going away anytime soon, it's important to claim a page for your business, as well as start sharing content through it.
Local Citations
If you're trying to rank for one or more local search engine queries (ex. carpet repair in Virginia), you need plenty of local citations. Citations are directory listings or other mentions that include your business name, address and phone number. To maximize the benefits of these citations, it's important that the information in all of them is correct and in the same format. Potential sources for local citations include everything from AngiesList.com to CitySearch.com to EventBrite.com. The reason Google puts so much emphasis on local citations is they help to prove that you have a real business with an actual physical location.
Google Authorship
It makes sense that Google wants to show content from people who are recognized as authorities. One way they're doing that is through Google Authorship. By claiming your Authorship profile through your Google+ page and then using the corresponding markup, you'll be able to let Google know exactly what posts you publish.
Become an Authority
This ties into using Google Authorship. By doing things like writing guest posts on relevant blogs, you'll be able to share your extensive industry knowledge and begin building your reputation as a recognized authority.
Understand the Role of Social
Most business owners don't have time to hang out all day on Twitter or Facebook. This causes many to completely steer clear of social media. The good news is you don't have to pour tons of time into those networks to benefit from them. Instead, if you think of using social as a way to support your other marketing efforts, you'll be able to effectively utilize those networks instead of feeling like they're wasting your time.
If you have any other questions about the best approach for your business to build a strong Google presence in 2013, don't hesitate to ask us!